Please find below a summary of some basic principles:
KPIs should be used for decision-making and improvement; a Before/After or Trend analysis should be possible.
It should be possible to define the KPIs at the same time as the Predictive Maintenance Program since they help us to verify that the objectives that we had set ourselves have been achieved.
KPIs must be limited in number, with a focus on action points rather than on reporting and analysis.
It should be possible to define the KPIs in the most complete and reliable manner.
Once these principles have been established, let us look at what makes vibration analysis special. As we have explained in one of our previous articles, the main advantage of this monitoring method is its versatility, its ability to detect malfunctions at an early stage and its ability to precisely channelize the maintenance activity thanks to an accurate and reliable diagnosis.
Predictive Maintenance Program
According to the first two principles mentioned above, if we propose to set up a Predictive Maintenance Program based on vibration analysis, it is because we believe that its intrinsic advantages will help improve the Maintenance activity and be overall beneficial to the Company. The KPIs put in place should make it possible to validate this. Of course, the efficiency of vibration analysis, like that of any other monitoring method, should be observed in the "macro" indicators which include the overall equipment effectiveness (OEE), the total uptime and maintenance costs. These general indicators can be sufficient at first when there is a lot of scope for improvement or when maintenance is based on a single monitoring method. However, thereafter they may be insufficient when it comes to assessing how much scope for improvement is still available or what different methods contribute to the improvement of overall performance.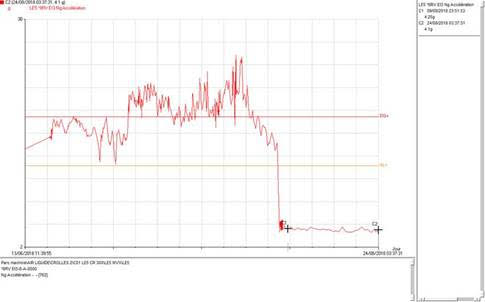 Precise indicators
It can, therefore, be interesting to follow more precise indicators which we will identify by searching among available historical data which is most representative of the expected improvement (or in the absence of this data, in the POC phase for example, by measuring these indicators on similar, unsupervised equipment). For example:
If we chose the vibration analysis for its versatility, it is because we are aiming to play on the "mass" effect (strategic components which are present in large numbers and are regularly prone to error). In this case, monitoring the frequency rate can be interesting.
If it is the diagnostic performance that has grabbed our attention, then it may be necessary to follow the mean time to repair (MTTR). This indicator can decrease only if the technicians are properly alerted and focused on the correct operation to be carried out.
If we have chosen to detect faults as early as possible, it is so that our equipment always functions to the best of its abilities. Monitoring the health and performance of the OEE is a good way to be certain of its functionality.
From experience, we find that our customers most often follow two general indicators (one related to the availability of equipment and one related to maintenance costs) as well as one or two indicators more specifically related to vibration analysis, revolving around either a relevant diagnosis index and/or machinery health index.

What about you? Which KPIs will you choose to follow?

!