We've seen this in schools such as Sandy Hook, universities like Virginia Tech, entertainment venues like the Pulse nightclub in Orlando, a Walmart in El Paso, workplaces like the Virginia Beach municipal building, and more. What does this all add up to?
Let's take a look at some stats shared by Giffords and the Gun Violence Archive:
38,000 Americans die from gun violence annually. This works out to 100 per day.
More than 1 million Americans have been victims of gun violence in the past 10 years.
In 2020 alone, there have already been over 400 mass shootings and over 14,000 gun violence deaths in total (including homicide, accidents, and self-defense).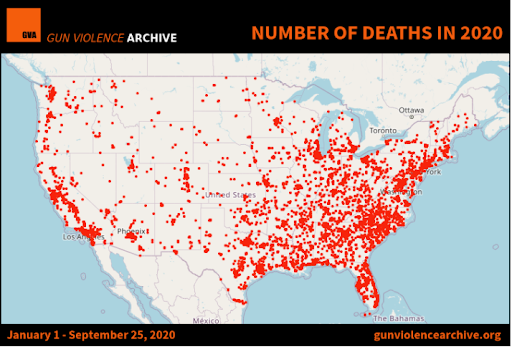 With these figures in mind, many government agencies and independent organizations are exploring ways to combat this progressively increasing trend. Police departments are especially challenged with identifying solutions, particularly since there has been a push for hands-off policing in recent times. Most of us are familiar with community programs focused on addressing gun violence concerns, but many are now looking for ways to capitalize on technology in an effort to deter gun violence. Gunshot detection technology is one such solution that has been put into practice across numerous cities today. Smart guns designed to prevent illegal firearm usage through a security lock only the authorized firearm owner can unlock are another potential solution. This works in the same way a smartphone user would unlock a cellphone using a fingerprint or passcode. However, Smart Guns are only available abroad today and require continued research and buy-in before they can move beyond the conceptual phase in the United States. On the other hand, some public establishments follow a relatively traditional approach to gun violence prevention by implementing entryway barriers. Similar to any TSA checkpoint, these barriers are manned by security guards who scan visitors with a magnetometer or other X-ray technology to detect hidden weapons. This solution is frequently found in corporate offices and government buildings, but it does require security staff to be on hand during all hours of operation.

One thing is for certain, and it's that technology in the security realm is constantly evolving. Security professionals are challenged with staying up-to-date and continuously optimizing their security protocols. Taking the time to ensure you're utilizing the best tools and resources available is essential, and your community will be safer for it.

Article written by Bridget Minner

!