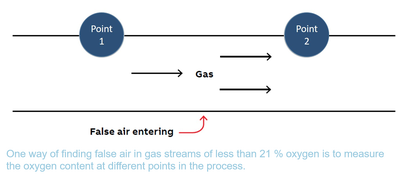 What is false air
False air is any unwanted air entering into the process system. The exact amount of false air is difficult to measure. However, an indicator of false air can be, increase of % of oxygen between two points (usable for gas stream containing less than 21 per cent of oxygen). Due to unwanted air, the power consumption increases and system's temperature decreases. Therefore, to maintain the same temperature fuel consumption has to be increased.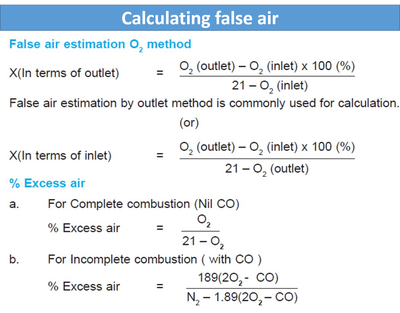 Energy contributes to almost 40% of the cost of production and hence energy conservation assumes greater importance as one of the best ways for improving productivity.
Impact of false air in cement plant:
Increase of power consumption
Increase the fuel consumption
Unstable operation
Reduction in productivity
Higher wear of fans
Drop of temperature for drying raw material
Difficulty to transport material
False air intrusion points
Generally false air intrudes in kiln section through
Kiln outlet
Inlet seal
TAD slide gate
Inspection doors and flap box
In mill section false air intrudes through
Rotary feeder at mill inlet
Mill body
Mill door
Flaps
Expansion joints
Holes of ducts and tie rod entry point
In power sector, as margin is very less, cost- effectiveness plays an important role. Generally false air intrudes in CPP section through
Air pre-heater casing
Boiler main door
Fan casing,
Inspection doors
ESP main doors
ESP hopper doors
Expansion bellows and ducts
In GPP section false air intrudes through
Main holes
Hammering
Bellows
Rotary air locks
Damper casing
Expansion bellow, etc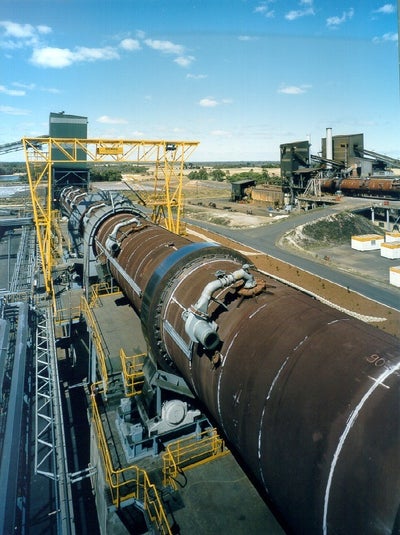 False air detection through ultrasonic leak detector
Ultrasonic leak detectors often called sniffer, especially designed to find small leaks, are also being used in enclosed gas systems. Since ultrasonic gas detectors search for the sounds of leaks rather than escaping gases, they are able to detect leaks of any gas type. Though the device is unable to measure gas concentration, it is able to determine the leak rate of an escaping gas because the ultrasonic sound level depends on the gas pressure and size of the leak. When gas escapes a pressurized line, it generates a sound in the range of 25 kHz to 10 MHz, well above the frequencies the human ear is sensitive to but in a range easily identifiable to ultrasonic sensors. When the detector senses ultrasonic frequencies, they are isolated from normal background noise, amplified, and converted to a frequency audible to humans.
Detection principle: When a gas passes through a restricted orifice under pressure, it goes from a pressurized laminar flow to low pressure turbulent flow. The turbulence generates a broad spectrum of sound called "white noise". There are ultrasonic components in this white noise. Since the ultrasound is loudest at the leak site, it can be detected very easily.
Ultrasound Acoustic Imaging - SoundCam Ultra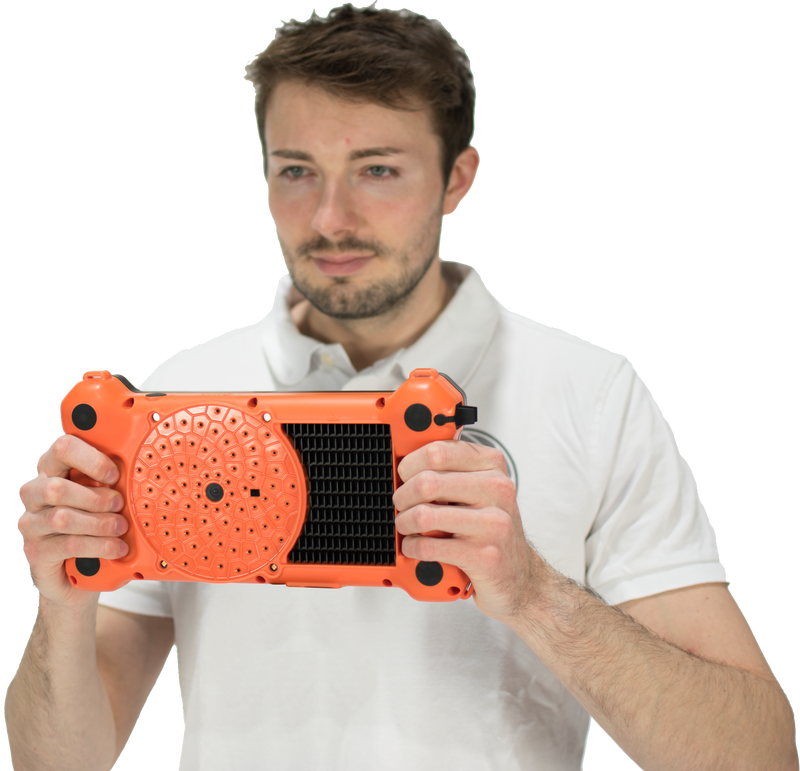 Acoustic based condition monitoring is the future of predictive maintenance.
Together with machine learning and advanced signal processing, impending machine failures can be detected and tackled ahead of time.

Acoem presents – Acoustic Camera SoundCam Ultra an accurate, reliable, easy to use and cost-effective acoustic based machine condition monitoring solution. The SoundCam Ultra is the first and smallest handheld camera that creates acoustic images from audible as well as the ultrasound range. It locates sound sources in real time and displays the results instantly on the screen and helps to analyse machine wear, gives defect assessment, detects compressed air/ gas leaks, partial discharges and corona testing.

!