Wireless monitoring & data solutions that protect your assets
As a pioneer in wireless solutions for condition monitoring, Acoem has been working tirelessly with our distributors and customers in petrochemical processing; pulp & paper production; plastics, metals and textiles manufacturing; food, beverage and pharmaceutical processing; and HVAC systems for more than 40+ years.
We understand that our customers' key priorities are risk mitigation, the health and safety of their workforce and keeping their industrial processes operating with maximum efficiency to minimise costs.
The importance of monitoring critical machinery like cooling towers
Cooling towers play a crucial role in waste heat removal, so maximising their efficiency, both in terms of operation and protection from deterioration is essential. A lack of proper maintenance can cause major issues that can significantly reduce the lifespan, reliability and productivity of your processing equipment. It can also financially impact your business and affect the health of your workforce and surrounding communities.
Often located in harsh environments, monitoring of cooling towers can be extremely challenging. Access is usually limited and can be dangerous. Corrosive or toxic chemicals added to the water to keep the towers bacteria free make them particularly difficult to maintain. Ideally you want to implement a monitoring system that allows you to schedule maintenance operations before failures occur — a holistic solution that will give you total peace of mind when it comes to the condition of your machinery. You want access to the right data at the right time to optimise the performance of your industrial equipment while reducing ongoing maintenance costs. Choosing the right cooling tower condition monitoring system is vital.
The evolution of monitoring: from portable to wired to wireless
Prior to wireless systems, historically there were only two measuring options for condition monitoring of your equipment.
The first was a portable, manual method — which, at best, provided a single measurement each month because it involved going into the field to take measurements which was also a safety risk. The second was an online version with permanently installed wiring, which was generally expensive and labour-intensive to install. Likewise it was not always dependable due to placements in difficult locations and under potentially hazardous environmental conditions.
Acoem's introduction of a wireless solution complements and significantly enhances these monitoring strategies, resulting in a more frequent set of data than portable measurement can produce. It also facilitates a more accurate assessment of the health of your critical assets and prevents any unexpected failures that may occur between monthly portable measurements — ensuring that your machine will operate with maximum efficiency and reliability until its next scheduled maintenance.
Acoem Eagle's wireless remote diagnostic solution is a game changer in terms of reliability strategy, seamlessly creating environments of possibility.
Acoem Eagle: the solution that ticks all the boxes
The aptly name 'Eagle' solution from Acoem was designed with your priorities in mind. When you purchase the Eagle, you are not just buying a sensor, you are investing in a total solution that will be the eyes and ears of your machinery — always on duty, reliable, accurate and protective, alerting you to any and all anomalies and maintenance issues.
Its superior diagnostic capabilities safeguard the most fragile components of your equipment — its crucial rotating machinery — efficiently detecting costly faults like bearing and gear defects.
The Eagle's intuitively designed wireless monitoring system measures vibration automatically in three directions as well as the bearing temperature. But what truly sets it apart from the low-cost sensors that have flooded the market is its robust design especially developed for harsh environments, its suitability for any large/critical machinery (+/-50g) and the way it seamlessly integrates with the entire Acoem ecosystem, which has been built on a foundation of research, technology and three decades of on-the-ground industrial application experience.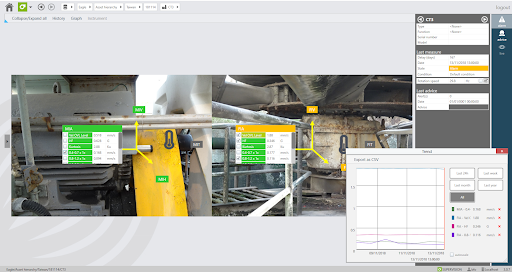 Not all condition monitoring systems are created equally
No matter the location or environmental conditions, the small, self-powered and tough stainless-steel sensor can be easily deployed on any cooling tower. Its wireless gateway can be installed up to a hundred metres from the sensor, with an extendable range via a wireless expander. The fully wireless technology and portability of the sensor system eliminates the need for labour-intensive manual inspections and removes all cables which would deteriorate over time.
The vibration data captured is processed using a dynamic range of analysis and post-processing tools featured in Acoem's NEST predictive maintenance software platform, including advanced vibration indicators, calculations covering historical data, merged spectra, 3D spectra and Shock Finder filter.
Measurements can be easily translated into trends and compared over time for each operating condition. With superior metrology and 15kHz bandwidth anticipation capabilities are heightened, meaning faults can be detected earlier and false alarms are eliminated. Regardless of how many sensors make up your network, all measurements can be supervised remotely on any enabled device.
Eagle – the solution of choice for industry worldwide
Many of our long-term customers rely on Acoem condition monitoring solutions throughout their operations. For critical cooling towers, Eagle is the natural choice. Thanks to Acoem's Taiwanese distributor — Vibcombi, petrochemical and semi-conductor processing company Nanya— a self-described leader in reducing carbon emissions through smart & green manufacturing — has been working with Acoem solutions for more than ten years. Initially using Acoem's cabled sensors, they upgraded to the wireless Eagle shortly after its release in 2015 and currently operate an extensive network of hundreds of individual Eagle sensors in multiple factories across Taiwan.

Thailand's Siam Cement (SCG), the largest and oldest cement and building material company in Southeast Asia, likewise depends on Acoem's predictive and condition monitoring solutions for its operations.  SCG has commissioned the full Acoem ecosystem including Falcon portable analysers and MV-x real-time monitoring systems across its different machinery and equipment. Working closely with Acoem's Thai distributor, FAAD, SCG has installed hundreds of Eagle sensors to capture essential monitoring data of all its cooling towers across three manufacturing sites.

"Eagle is the culmination of decades of expertise servicing the industrial sector and the system has evolved organically based on our customers' essential needs and advances in technology," commented Vincent Muller, CEO, Acoem Maintenance.

"With Acoem, you are not just buying a network of monitoring instruments, you are investing in a holistic solution for the total condition monitoring of your equipment — an entire ecosystem that includes hardware, software, analytical platforms, maintenance and technical support, coupled with extensive know how. That is the Acoem difference," he added.

Acoem is committed to helping our customers find the right balance between progress and preservation and safeguarding their assets. Our solutions are designed to empower you to make informed decisions based on the accurate data our cohesive systems provide, creating a direct link between possibilities and protection.

For more information about how our Eagle solutions can optimise your equipment's lifecycle and operational efficiency, contact us or visit www.acoem.com

!