Two things are especially important:
1. Using the right kind of grease or oil for the specific application
2. Using the right amount of grease or oil for the specific application
Here are a couple helpful charts you can reference: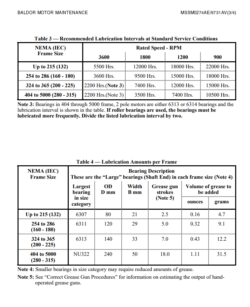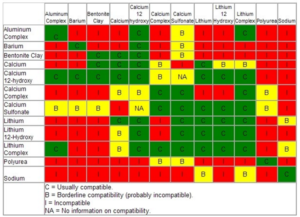 As far as knowing the right kind of grease/oil for your bearings, you will want to pay attention to the manufacturer's guidelines. However, it's important to also keep in mind that sometimes the recommended grease may not be the best kind for your application. Sometimes we think of lubrication as an unskilled job, but this couldn't be further from the truth; in fact, it takes a good deal of skill and experience to ensure bearings are properly greased. This is why we encourage you to take this job seriously and keep learning!
You can generally find a table that you can use to identify what type of grease/oil you need based on the manufacturer, the base oil, the thickener, and the application. It's also important to evaluate each machine and bearing separately. Although we are always in favor of a regular, condition monitoring plan, we recommend lubricating bearings based more on monitoring and measuring rather than when time is up. A tool like our Smart Machine Checker (SMC) is a great resource for monitoring bearings. The SMC has a feature called the Bearing Defect Factor that can detect a lubrication problem, recommend lubrication, and give you reminders on bearings that may have recurring problems.
Once you know what type of grease is best to use for your bearing, you need to consider how much of it you should use. It is often more common to over grease bearings than to under grease them, so this is important to consider.
Over or under greasing bearings can have substantial consequences.
For example, over greasing bearings can cause:
Too high operating temperatures
Damaged seals
Machine failure
Problems caused by under greasing can include:
Too high operating temperatures
Too much contact between machine components
Extreme wear
Excessive noise levels
As you can see, both of these are serious problems and need to be avoided.
Here are a few additional recommendations for properly caring for your bearings:
If you determine that you do need to add more grease, ensure that any old grease is removed and the application site is sufficiently cleaned.
Make sure the grease you are adding has been stored correctly and has not been contaminated.
Be careful not to use an imprecise grease gun that could damage seals. If you do use a grease gun, make sure you know the exact amount of grease it discharges with each pump.
To read more about bearing lubrication, see our previous blog posts:
Using the Smart Machine Checker as a Lubrication Tool
Machinery Vibration Problems Part 3–Lubrication
!